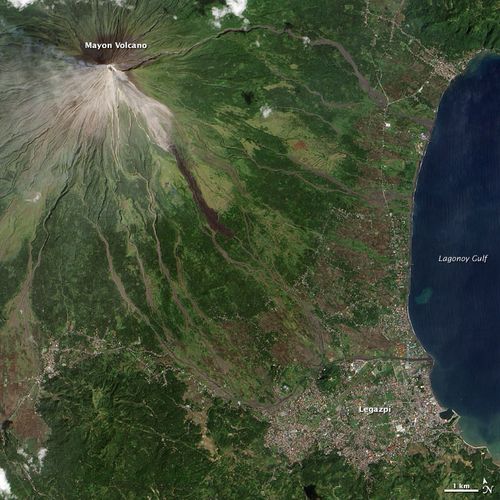 Here's a satellite photo a couple days old of Mt. Mayon, the Phillippine volcano which could blow at any time (I posted a few videos yesterday). More than 30,000 have been moved to temporary shelters. I'd be a bit worried to have a home in Legazpi right about now.
Click to enlarge image. The speed and detail at which we can view our planet these days still amazes me.
NASA writes: "This natural-color image of Mayon was captured on December 15, 2009, by the Advanced Land Imager on NASA's Earth Observing-1 (EO-1) satellite. A small plume of ash and/or steam is blowing west from the summit. Dark-colored lava or debris flows from previous eruptions streak the flanks of the mountain. A ravine on the southeast slope is occupied by a particularly prominent lava or debris flow.
According to local news reports from December 16, fragments of lava were continuously detaching from the lava filing the crater and cascading down slope up to 3 kilometers. Lava flows reached several hundred meters from the summit, but they were still confined to ravines. Disaster planning officials speculated that, given Mayon's history, evacuations could last more than two months."