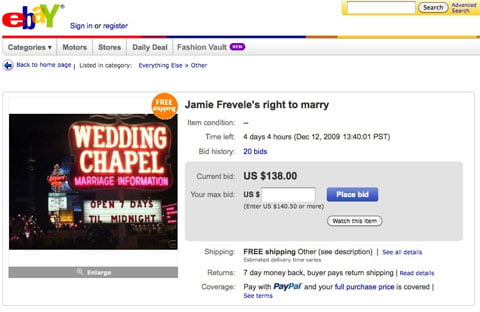 Jamie Frevele, a heterosexual New York woman who says she's not getting married, is selling her right to marry on eBay in support of those who can't.
She writes:
I'm an unmarried heterosexual woman, and
since I probably won't be using my right to get married, I would like
to give it away. I would like to sell it to the highest bidder and
donate the proceeds to an organization that supports LGBT rights since
the government designed to protect all of us is picking and choosing
based on what they think is icky, weird, or unkown to them.

Bid now, and you can have my super
wonderful privilege and legal ability to get married as many times as
you want in a classy place like the one pictured. You don't have to
know the person, you don't have to like them, you don't have to think
through your decision to get married or anything – you can just do it!
Because you can! Come on, it's cool to get married, and think of the
pictures you'll have to show people of this person that they will
definitely think is so wrong for you and probably is! But heavens to
BETSY, do NOT marry someone of the same gender because that would be a
mockery of the institution of marriage.

And if it doesn't work out, just get divorced. Half the cool people who get married do that anyway.

I will write you up a fancy, wonderful,
articulate proclamation handing over my right to get married. I have no
official documentation because this is something I was born with since
I was born heterosexual. Unfortunately, this is only a symbolic
gesture. However, since I'm picky and difficult, it's probably
something that, if a physical object, would have been considered
pristine and shiny after some dusting. Your bid, on the other hand, is
real, and the donation you make to an organization that supports those
who have been treated as second-class citizens will be well worth it.
Obviously, individual rights can't be purchased (and eBay will probably pull this soon anyway) but the gesture is appreciated.