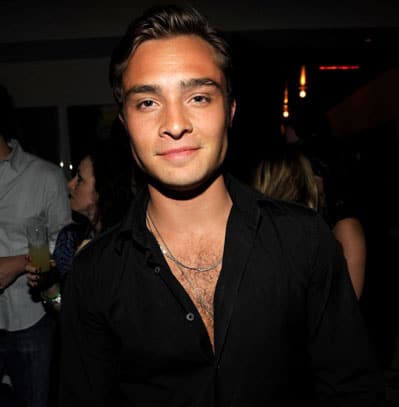 The Wall Street Journal reports on the return of "heavage", hairy male cleavage revealed by the plunging neckline of an unbuttoned shirt, and offers credit to Ed Westwick, Mehcad Brooks, and Jude Law, who aren't shy about showing it off:
"The last time man cleavage was so prevalent in the U.S. was in the
1970s — 'the golden age of male chest hair,' says Mr. Bryan.
Epitomized by John Travolta in 1977's 'Saturday Night Fever,' the
convention back then was to skip enough shirt buttons to show off a
thick forest of hair, perhaps topped with a gold medallion as a sign of
virility…The latest resurrection of man cleavage does raise a not-so
insignificant issue: to wax or not? For a number of years, any male
chest hair was considered a fashion don't, but very recently a thin
thatch has become quite acceptable. The low-cut look 'is better if you
have a little chest hair,' says Tyler Thoreson, a New York-based men's
style consultant. 'It's not about showing off chest hair, it's about it
peeking out a little bit.'"