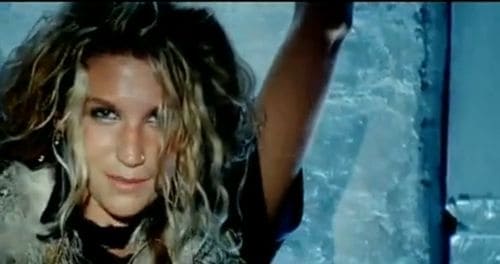 If you listen to Top 40 radio at all no doubt you've heard the new Ke$ha track "Tik Tok" on repeat over the holidays.
The NYT just anointed her the new face of white rap (I don't really get it), comparing her to Debbie Harry, though most draw comparisons to Lady Gaga, presumably because "Tik Tok" bears some resemblance to "Just Dance" in its rhythms.
What do you think of Ke$ha — here to stay or a flash in the pan? I'm not even gonna go near the Lady Gaga comparisons. However, Ke$ha does have a track about throwing up in Paris Hilton's closet, based on a true story:
"Pop sensation KE$HA wrecked her chances of becoming Paris Hilton's 'BFF' when she threw up in the socialite's closet.The Tik Tok hitmaker sang backing vocals on Hilton's album, Paris, and the two girls briefly became friends – but that ended when Ke$ha mistook the heiress' wardrobe for her bathroom.She recalls, 'We were all dancing, hanging out (and) I got overexcited and ralphed (threw up) in her closet. I thought it was a bathroom. That kind of ended the relationship right there. I wouldn't want to be my friend either."
And that kind of sold her for me.
Watch "Tik Tok", AFTER THE JUMP…