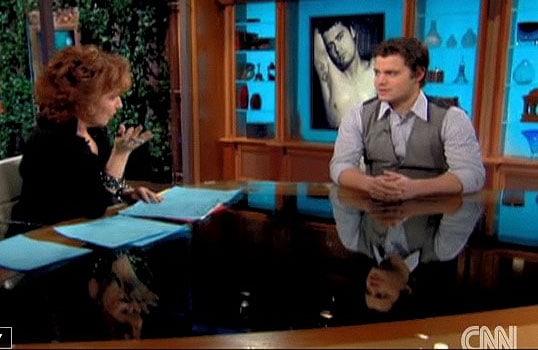 Levi Johnston appears on The Joy Behar Show tonight. In this preview clip, she asks him about his Playgirl portfolio and a gay porn movie with a Levi look-alike. She also asks him how he feels about being objectified by gay men.
Asks Behar: "How does it feel to be a gay icon? You come from a conservative background, right? And Alaska's not the most liberal state, and yet you seem to be very comfortable being a gay icon."
Answers Johnston:"Growing up in Wasilla, it is [conservative]. I've never even seen a gay guy in Wasilla, I don't think. I've seen gay guys, but…once I started doing all these tours and everything, you know, I just…they're people too. It doesn't matter to me. It's just more fans…it's great."
Watch, AFTER THE JUMP…
Previously…
Levi Johnston Fine with Being a Gay Pin-up Boy [tr]
Here's the full appearance: