The New Jersey Senate Judiciary Committee will vote on New Jersey's marriage equality bill Monday, and a floor vote is expected on Thursday, State Senator Ray Lesniak announced to a group of activists yesterday: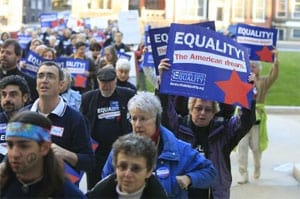 "Democratic officials previously said they would not put the legislation to a vote unless they had the support needed to pass it.
Senate President Richard Codey later confirmed that the full Senate will vote on the measure on Thursday.
About 650 people came here today in support of the bill's passage. At least a dozen same-sex marriage opponents, mainly a group of Orthodox Jews from Lakewood, held a counter protest at the Statehouse.
Both houses of the Legislature must pass the bill it before it goes to the governor. Outgoing Gov. Jon Corzine has said he would sign it. Incoming Gov. Chris Christie says he would veto it."