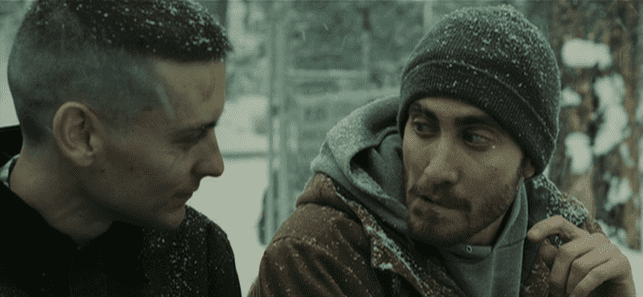 NATHANIEL ROGERS 
would live in the movie theater but for the poor internet reception. He blogs daily at the Film Experience.
YOUR FEATURE PRESENTATION
Has anyone ever remade a film that you absolutely love? It can be odd to remove yourself from the familiar original while watching the shiny and new. Presumably not many people will have this problem with BROTHERS though I'll admit up front that I did. This new war-at-home drama is adapted from a little seen Danish film of the same name. Natalie Portman plays Grace Cahill, a young mother and wife whose husband Sam (Tobey Maguire) has been assumed dead in Afghanistan. We know that he actually survived but Grace doesn't and in the fog of grief discovers budding feelings for her brother-in-law Tommy (Jake Gyllenhaal), an ex-con, who begins to bloom when he takes over as man of the house. When Sam returns from war, with post traumatic stress problems, serious complications, tears and family drama arrive with him.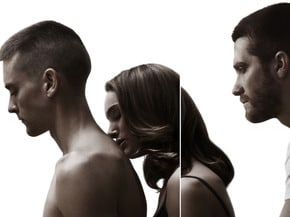 While it's heartening to see filmmakers still dealing with America during wartime (even if audiences aren't exactly responding) and to see talented actors push themselves, the film plays a bit too histrionically to achieve the emotional force it's going for with the family meltdown. I kept drifting back to the far superior original, which trusted the audience to watch for tiny shifts of feeling in all three of the main characters. Little earthquakes can be devastating.
Portman recently (and accurately) stated at a press conference: "I remember Jim [Sheridan] describing the Danish film as a woman's fantasy movie. Two hot guys wanting you and you love both of them." That's a reductive if enticing description but it's the picture I was hoping to see again and one you should definitely rent on DVD.
There's a lot to recommend in another new film, THE LAST STATION, not the least of which is the deflowering of James McAvoy.
MORE, AFTER THE JUMP…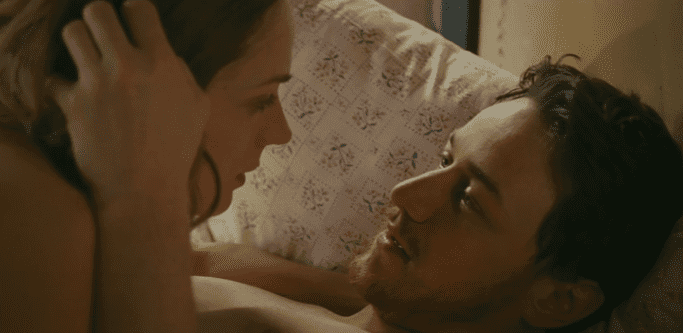 McAvoy is making quite a career of explosive sexual dalliances, whether it be misunderstood up-against-the-bookshelves rutting with Keira Knightley (Atonement) or shooting curved bullets at Angelina Jolie (Wanted). This time he plays a young Russian whose commitment to Tolstoyan values (including celibacy) is put to the test when he moves into the estate of the actual Tolstoy (Christopher Plummer). Director Michael Hoffman keeps the pace surprisingly zippy without shortchanging the drama. That's a neat trick and as a result this isn't a stuffy period piece. But here's what Oscar will love: Helen Mirren chews huge chunks of art-directed scenery as Sofya Tolstoy, abandoned wife and peerless drama queen.
Also Opening. UP IN THE AIR literalizes (at least in its title) what you may already know: George Clooney hovers above us all, breathing rarified air. He's super human! This dramedy from writer/director Jason Reitman (Juno) which follows a corporate axe man through life changes is expected to be a major Oscar player. Supporting actress Anna Kendrick (Twilight) is also winning raves. Remember how hilarious she was in Camp singing Sondheim's classic "Ladies Who Lunch"? ARMORED is a heist film starring Matt Dillon and several familiar faces (Laurence Fishburne, Fred Ward, Skeet Ulrich, etc…)  BEFORE TOMORROW is an Inuit drama that might appeal to fans of Atanajarut: The Fast Runner though it's not on that (admittedly rare) level. It's Meg Ryan vs. Timothy Hutton in SERIOUS MOONLIGHT, a war of the sexes comedy scripted by the late actress turned writer Adrienne Shelly (Waitress).  EVERYBODY'S FINE, a remake of a famous Italian picture starring the great Marcelo Mastroianni, has Robert DeNiro playing lonely dad. Sam Rockwell and Drew Barrymore, once pretend lovers in Charlie's Angels, are now brother and sis.
BONUS SCENES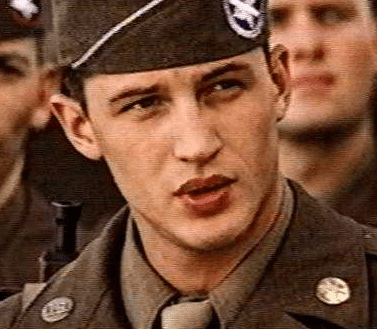 Rising British actor Tom Hardy (Bronson) may nab the lead role in the reboot of Mad Max that was once rumored to be going to Jeremy Renner (The Hurt Locker). Hardy, who you may recognize from Band of Brothers, is a beautiful beautiful man but then so was the original Max (Mr. Mel Gibson) back in the day. Let's hope Hardy has better luck maintaining his sanity when larger stardom hits.


Did you hear that Liza Minnelli finally 'feels like herself'? Say What? She spoke to Liz Smith this week. I've been watching Cabaret on loop lately. It happens. Definitely one of the greatest movies of all time.

The great writer/director Paul Thomas Anderson may follow up There Will Be Blood (2007) with a film about a religious guru "The Master". He plans to cast Philip Seymour Hoffman as the charismatic prophet. Hmmm, not sure "charismatic" is the right adjective for Hoffman but I realize I'm in the minority at thinking he's a wildly overrated talent.


Are you a fan of animated films? If so, check out the Annie nominations. Sadness that Australia's wonderfully dark humored Mary & Max was passed over (or ineligible?) but the also-wonderful Coraline was justly honored in multiple categories.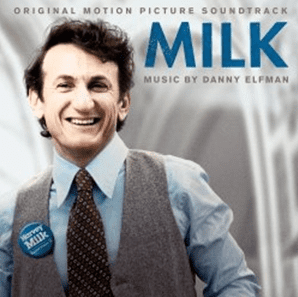 The Grammy Award nominations have been announced. With 109 categories it's a near impossibility to think about in a larger context so let's stick to movies. Best Compilation Soundtrack nominees are: Cadillac Records, Inglourious Basterds, Slumdog Millionaire (which won both music Oscars last year) and a vampire double: True Blood and Twilight. Best Score nominees include Benjamin Button, Milk, Harry Potter and the Half Blood Prince and a Michael Giacchino double for composing for two summer blockbusters Star Trek and Pixar's Up. Can he follow this up with a double Oscar nod? Unlikely but his star sure has risen quickly in Hollywood. Movie actors who've been nominated this year — through the spoken word categories –  include Carrie Fisher for Wishful Drinking, Richard Dreyfus and David Strathairn. All told, plenty of gay faves were nominated.