The DC Agenda has an interview with Congressman Jerrold Nadler in which he discusses activity on DOMA and other gay legislation pending in Congress: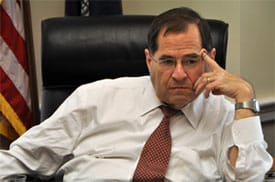 "Rep. Jerrold Nadler (D-N.Y.) said in an interview with DC Agenda that lawmakers will work on passing other pro-LGBT bills next year, and could take up legislation to repeal DOMA — known as the Respect for Marriage Act — at the end of the two-year session starting in 2011. 'The Respect for Marriage Act is a bill that we can't pass right now; we know we can't pass it right now,' he said.
Nadler said Congress won't take up the DOMA repeal next year because other LGBT-related bills, including the Employment Non-Discrimination Act, legislation providing partner benefits for LGBT federal workers and a repeal of 'Don't Ask, Don't Tell,' are taking precedence. Supporters hope to pass those measures by the end of 2010. 'The Respect for Marriage Act comes up after that, maybe at the end of the next Congress, maybe afterward,' he said."
Also: "During his Agenda interview, Nadler also addressed arguments that the Obama administration and Congress haven't made sufficient progress on LGBT issues since the start of this year.
The lawmaker said Congress has had a significant workload this year — including the passage of two annual budgets as well as stimulus and relief legislation for financial institutions — and that advocates for LGBT issues would be better to make judgments on Congress' work at the end of next year. 'I think it would be very fair by the time the election rolls around next October to say we haven't done enough on these issues,' he said. 'I think a lot of things have been fermenting and cooking. I think we will see a fair amount of action on these issues in next year's session.'
Asked whether President Obama could have spoken more forcefully on LGBT issues since the start of his administration, Nadler replied, 'I think he could have been more forthright on some of them.' He declined to elaborate."