Things appear to be moving in Albany. The Senate appears to be on the brink of a vote on marriage equality…they reconvene at 9 pm.
WKBW Buffalo reports: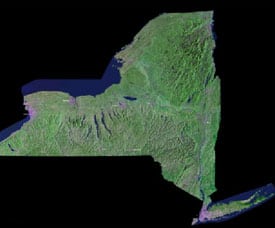 "After a four-week special session, lawmakers are expected to vote Tuesday night on a bill to close a portion New York's $3.2 billion budget deficit.
The Senate is scheduled to reconvene at 9 p.m., aides said.
On the agenda: the deficit reduction plan and same-sex marriage.
"We'll vote on gay marriage if there's enough time," said one Senate staffer who asked not to be identified."
CBS2:  "Gov. David Paterson said the way was now clear for a state Senate vote
on legalizing same-sex marriage in New York. Some key legislators have
tied the long awaited vote to passing a deficit reduction plan."
NYDN: "Here's the strongest sign yet that the gay marriage bill will indeed
come to the Senate floor for a vote before the day is over: Sen. Ruben
Diaz Sr., the measure's most outspoken opponent, has retired to his
Albany office to pray."
NY Observer: Assemblyman Daniel O'Donnell's partner is on his way to Albany.
Time-Union: "Senate sources say a debate and vote on gay marriage is still likely to follow close upon the heels of passage of the $2.8 billion deficit package currently being hammered into vote-ready form. Another sign: As Liz B reports, Ruben Diaz is praying (and calling around).
The question is whether that passage comes after dinner, after midnight, or after breakfast tomorrow. There are a number of possible timelines…"
 I hear that NYC Council Speaker is on her way to Albany as well in anticipation of a vote.
More news as it comes…