The Star-Ledger reports: "Derek Roseman, a spokesman for Assembly Democrats, today said the
bill has not been posted in the Assembly Judiciary Committee. On
Wednesday, Assembly Speaker Joseph Roberts (D-Camden) said the move to
his house would give more people a chance to testify. 'But I must emphasize that no hearing has been scheduled and that I
am continuing to discuss this issue with our caucus to gauge whether
there is enough support for it,' Roberts said. Under the Assembly's rules, the speaker could schedule a hearing as early as Monday. After a frenzied week of twists and turns, the bill's chances of
passage remain uncertain, and damage control was in full force today."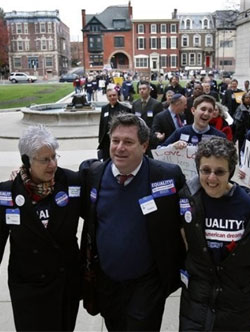 Garden State Equality's Steven Goldstein was forced to apologize for an ugly unauthorized protest that happened outside  the elementary school of Sen. Minority Leader Tom Kean's (R-Union) daughter after a holiday concert.
Said Goldstein in an email: "Though that occurrence was in no way authorized by Garden State
Equality — more than 10,000 people have our Equality buttons and more
than 4,000 people have our Equality t-shirts from events over the past
months — it certainly gave the appearance otherwise. I don't care how important an issue is to any one individual,
organization or greater community. Garden State Equality, and I as its
leader, will never tolerate that kind of invasion of personal privacy."
Meanwhile, Governor-elect Chris Christie reiterated his opposition to the legislation: "CBS 2 HD caught up with Chris Christie at City Hall where he met with Mayor Mike Bloomberg.
The two said they have a lot in common as they prepare to work together, but they have opposing views when it comes to the controversial gay marriage bill. 'I oppose same-sex marriages. I oppose the legislation that's pending right now in the state Legislature,' Christie said.' I do not think it's the government's business. I think people should be allowed to marry anybody they want,' Bloomberg said.
Christie, who takes office on Jan. 19, said he's watching closely as sponsors of the gay marriage bill try to push it through before he gets in, knowing the current Democratic governor will sign it. 'So if it doesn't get resolved in this legislative session, if it were to be sent to me as governor I would veto it,' Christie said."