A new Rice University poll shows promise for openly gay candidate Annise Parker in tomorrow's run-off mayoral election in Houston: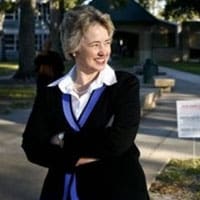 "Parker leads former city attorney Gene Locke 49 percent to 36 percent, according to a poll released Thursday by Rice University in Houston.
Parker has never made her sexual orientation a secret or a focal point during her six years on the City Council and the last six years as controller.
But it took a more prominent role in the mayor's race in the weeks leading up to the runoff as anti-gay activists and conservative religious groups have endorsed Locke and sent out mailers condemning Parker's 'homosexual behavior.'
Locke has been trying to distance himself from anti-gay attacks while courting conservative voters who could tip the race in his favor.
Rice political science professor Robert Stein, who oversaw the poll, said the attention on Parker's sexual orientation has probably hurt Locke more than her. 'It denied Locke an opportunity to win over traditional white liberal Democrats,' Stein said."