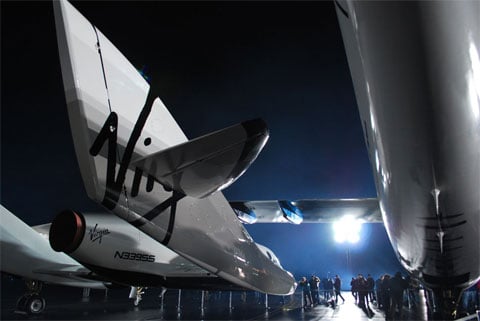 Richard Branson unveiled Virgin's SpaceShipTwo yesterday in the Mojave Desert: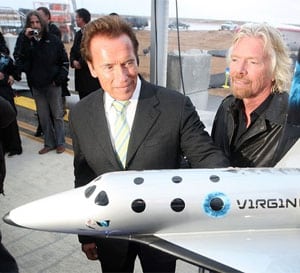 "As Britain's most visible showman-entrepreneur unveiled his latest creation in the southern California desert last night – a giant fantasy of a flying machine that promises to take tourists out of the Earth's atmosphere into outer space as soon as 2011 – everything was in place for the aviation equivalent of a glitzy Hollywood premiere.Branson had the klieg lights, the sound system booming eerie space-age music, and the hospitality tents doling out free champagne and vodka cocktails right on the runway of the Mojave air and space port.He even had "celebrity" guests – everyone from Victoria Principal, of Dallas fame, to Arnold Schwarzenegger, the governor of California – and countless stunning young women draped across the arms of tech geeks, engineering whizzes and assorted zillionaires, some of whom had flown halfway across the world to watch a little piece of history in the making."
The craft will begin taking paying customers ($200,000) into suborbital space as early as 2011.
BoingBoing (top image) has a gallery.
Check out video of the unveiling, and a very cool video demonstrating what a flight in SpaceShipTwo might be like, AFTER THE JUMP...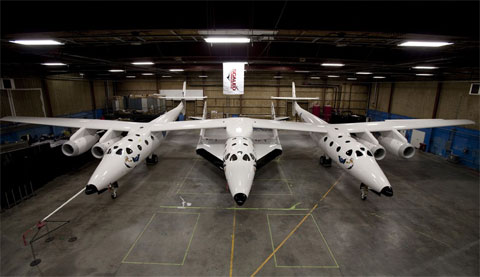 The rock star reveal:
Simulated animation of SpaceShipTwo in action: