While trying to discover how HIV hijacks cells, researchers at the University of Rochester discovered a feline gene in the virus: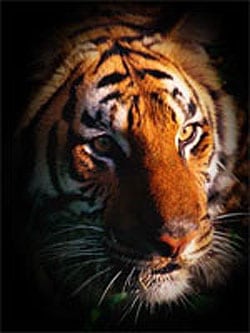 "It appears the virus took on a bit of a tiger's genetic material, scientists say, and a remnant of that cat remains in the virus to this day. That tiger, in fact, may have bitten a monkey, setting off an evolution of the virus that ultimately led to its infection of humans.
The finding shouldn't lead to any immediate breakthroughs in AIDS treatment, experts say. But it does provide more insight into how the virus works. 'Unless you really understand how these viruses work, the exact step-by-step chemical process, then you can't really rationally design a new clever kind of therapy that may be effective against the virus,' explained study co-author Robert Bambara, chairman of the University of Rochester's department of biochemistry and biophysics…The research suggests that HIV may have been a cat virus before it attacked monkeys and humans. Perhaps a tiger bit a monkey and transferred the virus that way, although there could have been another mode of transmission, Bambara said.
Next, researchers hope to determine whether a cousin of the human AIDS virus in monkeys, known as simian immunodeficiency virus (SIV), evolved to either have or not have the tiger gene, Bambara said.
If a link exists between the presence of the gene and the strength of the virus, that could be useful to scientists trying to find ways to better treat humans, he said."