Early this morning, the Senate squeaked through a motion to advance the health care reform bill to a final vote later this week, the Washington Post reports: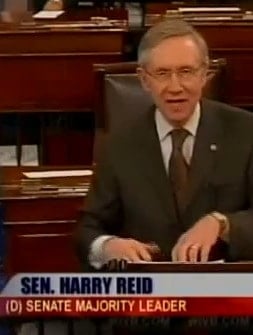 "The 60-40 tally, taken shortly after 1 a.m., followed 12 hours of acrimonious debate and required senators to trek to the Capitol in the aftermath of a snowstorm. The vote was the first of three procedural hurdles that Democrats must cross before a final vote on passage of the measure, now scheduled for Christmas Eve.A challenging closing round of negotiations, culminating in a series of compromises with moderates, threatened to overshadow the significance of what Democrats believed they were close to achieving: the most significant health-care legislation since Medicare and Medicaid were created in 1965. 'This bill is the product of years of hard work, study and deliberation,' said Senate Finance Chairman Max Baucus (D-Mont.), one of the principal sponsors of the package, in remarks on the Senate floor before the vote. 'These are the reforms for which Americans have been waiting.'"
More: "Obama and Democratic leaders, meanwhile, struggled to contain an uprising on the left. Responding to liberals, who have criticized Senate leaders as caving in on such issues as abortion coverage and the idea to create a government-run insurance plan, the White House and its allies acknowledged in newspaper op-ed pieces and on television talk shows that the $871 billion Senate legislation is not ideal.But they argued that the measure would transform the health-care system, both for people who have insurance and for 31 million Americans who otherwise would go without. 'This is major reform,' White House senior political adviser David Axelrod said Sunday on NBC's 'Meet the Press.' 'It's not perfect. And over time, it may improve,' he said."
Watch Axelrod on Meet the Press and a WIVB news report, AFTER THE JUMP…