Two men held a symbolic wedding ceremony in Malawi on Saturday, publicly defying the nation's laws against homosexuality, Reuters reports: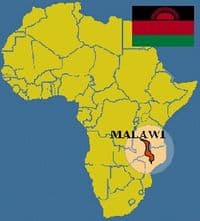 "Tiwonge Chimbalanga and Steven Monjeza were married in a traditional but symbolic ceremony in southern Malawi on Saturday, attracting hundreds of curious onlookers. 'We met at church where we both pray and we have been together for the last five months … I have never been interested in a woman,' Monjeza told The Nation newspaper.
Homosexuality is banned in Malawi and carries a maximum sentence of 14 years. 'I have just read about it (the marriage) in the press and the law in Malawi does not allow such practice and therefore the law will have to take its course,' Attorney General Jane Ansah told Reuters.
Three years ago the Anglican Church sent pro-gay rights Bishop Nick Henderson to head a diocese in rural Malawi. The congregation did not accept him and protests led to the death of a church member.
But the fight against HIV and AIDS is slowly changing the official position against gays and the government made its first public comment on homosexuality in September, when it said gay rights need to be recognised to help fight AIDS."
Chimbalanga was reportedly dressed in female attire, according to this account from blogger Zachimalawi, and there was apparently some dissension from observers:
"Gay lovebirds Tiwonge Chimbalanga and Steven Monjeza on Saturday made history in Malawi when they spiced their festive season with an open gay engagement ceremony, the first recorded public activity in the country's history.
The ceremony was held at Mankhoma Lodge in Malawi's commercial city, Blantyre, and was witnessed by hundreds of bewildered patrons.
Clad in traditional matching outfits, the bride and groom had their wonderful day under two tents elected in the lodge grounds. The whole place turned into a beehive of activity as people pushed and shoved each other in a quest to get a glimpse of Tiwonge and Steven during such a rare occasion.
Some people stared in wonder as others threw a flood of questions at the couple. But the couple ignored them and went about their business according to the programme of the event.
Tiwonge, the bride, was the major centre of attraction as his female make-up and dressing interested many patrons. He sat unperturbed by the pregnant atmosphere, sitting coolly next to his prospective husband he intends to marry in 2010.
However, what should have been a special moment for the two turned into outright agony as homophobic people went about confusing the whole process. They were not as supportive as happens during heterosexual relationships. In addition, there was some power interruption.
The bride openly wept and broke down, while the crowd became apparently uncontrollable."