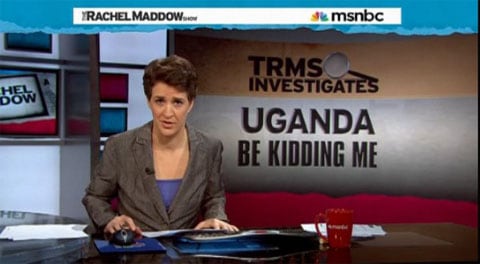 Last night, Rachel Maddow continued here excellent reporting on the situation in Uganda, updating her story with the news we received late yesterday that the two most heinous provisions of the "kill the gays" bill had been dropped. She also discussed how forced "conversion therapy", now promised by the Ugandan government, is at the heart of the work of her guest from last night, "ex-gay" Richard Cohen.
Her first segment dealt with Cohen and the American evangelicals who encourage anti-gay sentiment in Africa, and in the second segment she talks again with Jeff Sharlet, author of The Family.
Watch, AFTER THE JUMP…
In related news, TIME magazine has published a big piece on the situation in Uganda, and its American religious connections.
Visit msnbc.com for breaking news, world news, and news about the economy
Interview with Jeff Sharlet:
Visit msnbc.com for breaking news, world news, and news about the economy