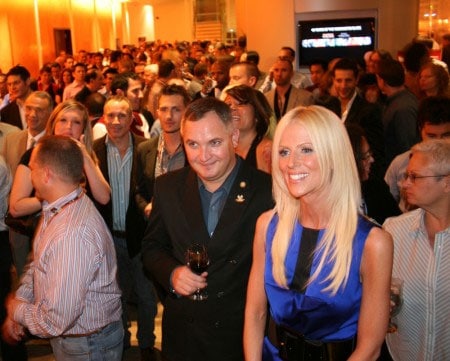 Or maybe they just love parties.
Whatever the case, DC Agenda's Kevin Naff reports they were on hand to celebrate the 40th anniversary of the Washington Blade last October, before its untimely demise last month.
The couple is scheduled to answer questions at a hearing by the House Homeland Security Committee today, but are apparently objecting to testifying and may be subpoenaed:
"The Salahis believe 'there is nothing further that they can do to
assist Congress in its inquiry regarding White House protocol and
certain security procedures,' the statement said. 'They therefore
respectfully decline to testify.'"
Additionally, the White House is invoking the separation of powers to keep Desiree Rogers, Obama's social secretary, from testifying as well:
"Earlier Wednesday at his regular briefing with reporters, Mr. Obama's press secretary, Robert Gibbs,
said Ms. Rogers would not testify. 'I think you know that, based on
separation of powers, staff here don't go to testify in front of
Congress,' he said. 'She won't — she will not be testifying in front
of Congress.' Mr. Gibbs also said the flap over the unauthorized intruders has
prompted the White House to change its procedures; from now on, a
representative of the social secretary's office will be stationed at
Secret Service checkpoints for major social events in case questions
arise."