Although public inaugural events are scheduled for tomorrow, Annise Parker was sworn into office on Saturday morning at a private ceremony. Houston is now the largest city with an openly gay mayor. Culture Map Houston reports: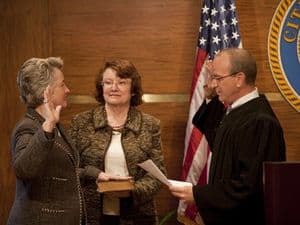 "About 25 family members and close friends gathered in the ceremonial
office on the third floor next to the mayor's office for the
swearing-in. The atmosphere was jubilant but casual. At one point,
Parker told her longtime friend, State District Judge Steven Kirkland,
to go put his robe on so they could get started. Kirkland administered
the oath of office to Parker, as she placed her hand on the family
Bible. Parker's partner, Kathy Hubbard, held the Bible and looked on
proudly, along with Parker's mother. Parker's teenage children did not
attend the ceremony because they were at home sleeping, a source
present at the ceremony said."
Houston's charter requires that office holders be sworn in on January 2. Parker will take the oath again at a public ceremony on Monday at 9:30 am at Houston's Wortham Theater Center, where other city officials will also be sworn in.