The NYT reports that former Tennessee congressman Harold Ford Jr., who voted against ENDA and for the federal marriage amendment, is seriously weighing a run against Senator Kirsten Gillibrand: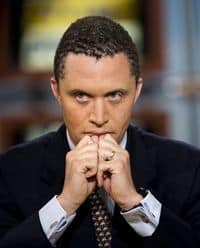 "Mr. Ford, 39, who moved to New York three years ago, has told friends
that he will decide whether to run in the next 45 days. The discussions
between Mr. Ford and top Democratic donors reflect the dissatisfaction
of some prominent party members with Ms. Gillibrand, who has yet to win
over key constituencies, especially in New York City….Some of the donors who have urged Mr. Ford to consider a run
expressed alarm as Ms. Gillibrand, who as a congresswoman represented a
conservative upstate district, has abandoned some of her previous
positions on issues like gun control and immigration
as she prepares to run statewide. Several executives interested in a
Ford candidacy said that Ms. Gillibrand's positions echoed Mr.
Schumer's and that the state needed a second independent voice in the
Senate. Mr. Ford, who lives in Manhattan, represented a
conservative Southern state and, if he runs, may himself have to adjust
some of his positions, like his opposition to gay marriage, to appeal
to New York voters."