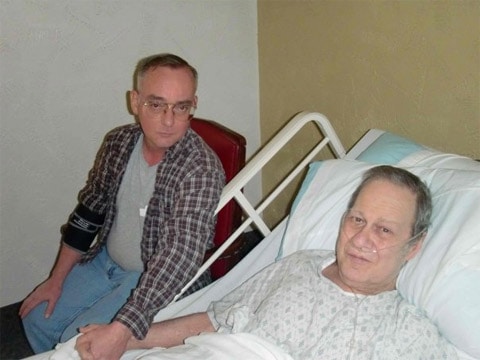 Bryan Dickenson and Bill Sugg have been together for 30 years. Sugg suffered a stroke in September and Dickenson, who has worked for AT&T for the past 12 years, is using vacation time so he can visit Sugg for one afternoon a week at a rehabilitation facility because AT&T refuses to give Dickenson the 12 weeks of sick leave that would be offered to heterosexual spouses in the same circumstances. Dickenson is concerned that when that time runs out he'll be fired for requesting additional time off to care for his longtime companion.
A rally in support of the couple is to take place in Dallas this Saturday in front of the AT&T retail store at 3311 Oak Lawn Ave.
Dallas Voice reports: "Dickenson's attorney, Rob Wiley of Dallas, said he initially thought AT&T's refusal to grant his client leave under FMLA was just a mistake on the part of the company. Wiley said he expected AT&T to quickly rectify the situation after he sent the company a friendly letter.
After all, AT&T maintains the highest score of 100 percent on the Human Rights Campaign's Corporate Equality Index, which ranks companies according to their treatment of LGBT employees. And just this week, HRC listed AT&T as one of its 'Best Places to Work.'
But AT&T has stood its ground, confirming in a statement to Dallas Voice this week that the company isn't granting Dickenson leave under FMLA because neither federal nor state law recognizes Sugg as his domestic partner."
Added Wiley: "At some point in time this just becomes really hateful that they wouldn't have any compassion. I think the recourse is to tell their story and let people know how AT&T really treats their employees."