Some quick action from AT&T.
Towleroad has learned that the Diversity & Inclusion group at AT&T and Human Resources are working to resolve the case of Bryan Dickenson I posted about earlier.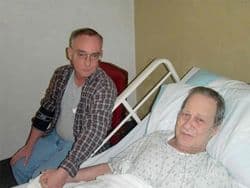 In addition, AT&T released the following statement:
"AT&T regrets that there has been confusion over the administration of family leave with respect to registered domestic partners. AT&T has taken steps to ensure that FMLA is extended to employees with registered domestic partners for the purpose of caring for the partner, regardless of the state in which the employee resides. AT&T has a long history of inclusiveness and we embrace and celebrate diversity of race, ethnicity, and sexual orientation in our workforce."
We look forward to hearing that the couple's case has been completely resolved.