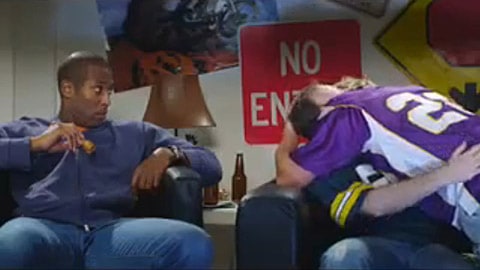 Mancrunch has received a formal rejection of the ad it submitted for the Super Bowl which features a gay couple kissing, CNBC reports:
"CBS said in its rejection that the creative 'is not within the network's broadcast standards for Super Bowl Sunday.' The rejection also said the sales department 'has had difficulty verifying your organization's credit status.' Mancrunch.com said they offered to pay a cash advance."'
Said Mancrunch.com spokesperson Dominic Friesen: "We are very disappointed that in 2010 such discrimination is happening especially given the fact that Focus on the Family is allowed to promote their way of life during the Super Bowl. We're calling on every same sex advocacy group to petition CBS and let them know this discriminatory behavior will not be tolerated."
Whether or not you think the ad is high-budget enough, or believe that the motive of Mancrunch was to receive free publicity, the fact that this homophobic Snickers kiss ad met CBS standards and the Mancrunch ad didn't exposes an ugly double standard.