Manifest Equality is holding a big gay rights art contest for you creative types.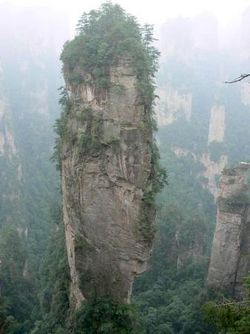 Avatar Hallelujah Mountain: Chinese city renaming mountain said to inspire floating mountains in Avatar.

Poltergeist psychic goes into the light.

Anderson Cooper's new firehouse comes complete with brass poles.

Ex-lover stalks D.C. lesbian judge: "Days after D.C. Superior Court Magistrate Judge Janet Albert broke up
with her girlfriend, the judge found her former companion unconscious in
her attic, above her bedroom, with some food and an ice bucket
fashioned into a makeshift toilet, authorities say."

Snooki to work red carpet for Grammys?

American Prayer Hour organized to counter National Prayer Breakfast.

eHarmony to settle lawsuit claiming the service discriminates against gays: "Under a proposed settlement filed Tuesday in Los Angeles Superior Court, eHarmony will link its straight and gay Web sites and allow people to use both without paying double fees.
Plaintiff's attorney Todd Schneider says the company also agreed to pay about $500,000 to an estimated 150 Californians to settle the class-action suit, plus around $1.5 million in court and attorney's fees."

Matt Bomer lends his fierce face to Men's Health.

Win a copy of Whitney
Houston's 25th Anniversary edition.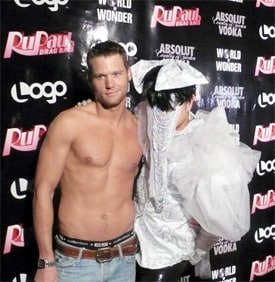 Bobby Trendy and Big Brother cowboy-turned-porn actor Steven Daigle dress down for RuPaul Drag Race party.

Spencer Tunick to create naked human base for Sydney Opera House.

Tell them to suck it: Parents in Menifee, California are working to ban the Merriam-Webster dictionary from school shelves because a student found the phrase "oral sex" in it. UPDATE: "The dictionary will go back to the classroom but the parents will be
given the option to determine if they want their kids to have access to
that dictionary."

Conservative journalists busted trying to bug Senator Mary Landrieu's offices: "According to the news release Tuesday and an affidavit by FBI Special Agent Steven Rayes, who is based in New Orleans, Basel and Flanagan attempted to gain access to Landrieu's office Monday while posing as telephone repairmen.
The two men were 'each dressed in blue denim pants, a blue work shirt, a light green fluorescent vest, a tool belt and a construction-style hard hat when they entered the Hale Boggs Federal Building,' the release noted."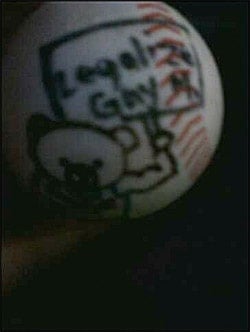 Japanese American artist Utada is pitching marriage equality baseballs into her audience at shows.

Rosie O'Donnell returning to stand-up in Palm Springs.

1977 gay documentary "Word is Out" re-released in NY. Michelangelo Signorile will be on Leonard Lopate tomorrow to talk about it.

Gays mock Yale admissions video.

Zsa Zsa Gabor's husband Frederic von Anhalt is running for governor of California.

Boy Culture heads to the Lady Gaga concert.

Conservative UK leader David Cameron says schoolchildren should be taught respect for gays and lesbians: "The Conservative leader said that equal treatment for homosexual people
should
be "embedded" in teaching. Mr Cameron's remarks, made in a recent meeting with party activists
which
emerged yesterday, follow a campaign by equal rights groups on the way
faith
schools teach children about sexuality."