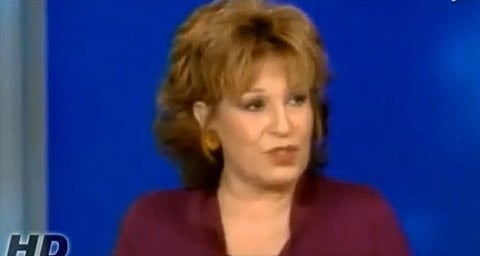 Folks are talking about a recent episode of The View in which Joy Behar basically says that gays take monogamy less seriously than straights, and an act of infidelity is less likely to lead to the break-up of a relationship.
Writes Jeremy Hooper at Good as You: "It's astounding that anyone, especially a progressive from New York City's media world, would still have such an uninformed opinion about gay relationships as a whole. Regardless of one's personal views on monogamy, it's downright weird to hear gay couples put in this "other" category that is monolithically one thing. Especially in a world where one can't shake a Tiger without hitting ten straight Jon & Kates!"
Dan Savage, whose conversation with Behar on HLN led to the remarks, says Joy's right: "Gay male couples generally don't view monogamy as the defining characteristic of a loving, committed relationship. Studies of male couples in long-term relationships have found that most gay male couples do allow for some "outside sexual contact," as they say, contacts that I wouldn't characterize as "affairs" or "cheating." If there are no lies, if there is no betrayal, if neither partner is doing anything that violates the commitment he made to the other, then no one cheated and no one was cheated on.Which is not to say that there aren't monogamous gay couples out there."
There are more facets to the argument than that, so watch the whole segment. What do you think?
Watch it, AFTER THE JUMP…