Equality California is calling for the White House to speak out against Proposition 8: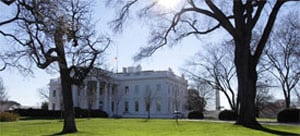 "The time has come for elected leaders to empower all Americans,
regardless of sexual orientation or gender identity. Once again, we
call on the Obama administration to join Equality California and others
in urging the federal courts to strike down this grossly unjust law. In
doing so, we will bring our nation one step closer to realizing its
promise of equality for all. Our country's bedrock principles of
democracy and freedom are at stake."
They are asking people to sign a petition which reads: "President Obama, I urge you to immediately file a brief in the federal court challenge to Prop 8 and ask the court to rule that it is unconstitutional to allow a majority to take away the rights of a minority."