Robert Mosbacher, a prominent GOP fundraiser, oil mogul, and Commerce Secretary under George H.W. Bush, died of pancreatic cancer on Sunday at 82.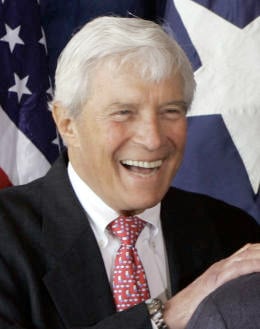 Mosbacher connected gay groups to the White House at a time when the 'culture wars' were in their infancy:
Mr. Mosbacher left his Commerce post in 1992 to raise funds for Bush's
reelection campaign. It was a period during which the GOP intensified
anti-gay, anti-abortion rhetoric, requiring Mr. Mosbacher — whose
daughter Diane is a lesbian — to walk a delicate line between the
personal and political.

At the Republican National Convention that year, conservative television
pundit Pat Buchanan declared "cultural war" on homosexuals and
delegates waved placards reading "Family Rights Forever/Gay Rights
Never." In support of his daughter, Mr. Mosbacher agreed to meet with
gay leaders, reportedly making the Bush administration the first to be
briefed on gay issues. The party's evangelical right pilloried Mr.
Mosbacher. His daughter told The Post, "Dad said … he didn't know what
else family values is if it's not supporting your kids and who they
are."
Mosbacher also made an impression on Houston Mayor Annise Parker, who worked for Mosbacher Energy for 18 years:
"When I stepped into the City Controller's office, managing about 75
people — the first time I'd had to manage a staff that large — I very
much channeled Bob Mosbacher. I was sort of a cog in the
wheel there, a number cruncher, but he had a profound influence on me.
He made it clear he knew something about me personally. He felt it
important to make that connection to people. It was good for business
and it made the office run more smoothly. I also learned you never fall
in love with a deal. The numbers always have to make sense. That is a
value I absorbed there and have tried to take into government."