Cole White, a Redwood City, CA man who was wanted on a $50K warrant in the beating of a man outside a Santa Cruz nightclub, turned himself in to police on Wednesday: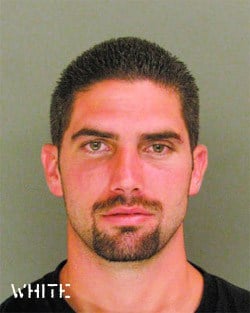 "'He provided a brief statement and said he would like to speak to an attorney,' Santa Cruz police spokesman Zach Friend said.
White is accused of beating up a Santa Cruz man in his 30s at the Blue Lagoon, a gay-friendly nightclub in downtown Santa Cruz early Sunday, according to police. The attack happened after White yelled gay slurs at the man.
The incident occurred both inside and outside the bar, located on the 900 block of Pacific Avenue, and spurred a robbery — a friend of White's is accused of stealing the victim's cell phone because it contained a photo of White — and a second fight, where an 18-year-old woman allegedly punched a man in front of the club, according to police. The man suspected in the robbery and the young woman were both arrested early Sunday, according to police."

 23-year-old Calvin Wright, a Benton Harbor, Michigan man is being held on suspicion of aggravated assault for an alleged hate crime on December 12 at a gas station:

"Using video surveillance from the service station, police tracked leads to the alleged attacker, who reportedly punched the victim in the face while uttering gay slurs, police said.
The assailant was arrested Saturday morning at a Benton Harbor fast-food restaurant, said Fetke. The man was taken into custody without incident.
The victim, in his 50s, told the group the OutCenter, an advocacy group for the rights of lesbian, gay, bisexual and transgender people, about the attack. The group sent a press release to media outlets, condemning the attack.
The victim told police that he had parked his car in the southeast corner of the gas station and when he exited his car a male approached him. The assailant asked the victim, 'What's up?' and then reportedly struck the victim in the face with his fist, Fetke said."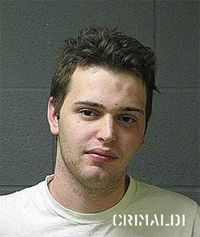 A man arrested last month for an anti-gay brass knuckles assault outside a bar in the Chicago suburb of Elgin will plead not guilty to a hate crime charge:
 "Marcus J. Crimaldi, 23, of the 2S800 block of Red Oak Drive, is accused of hitting a South Elgin man in the face with a set of brass knuckles at least four times while shouting a derogatory term for gays late Dec. 13 at South Grove Avenue and Chicago Street, police said. Defense attorney Liam Dixon said the term is not proof his client knew the victim was gay or hit him because of his sexual orientation. He said the two had not met previously. 'I would never approve of a derogatory term being used, but I don't think it proves their case,' Dixon said. 'He will be pleading not guilty.'
The victim did not require medical treatment, according to police. Crimaldi was arrested at the scene and charged with two counts of aggravated battery, a Class 3 felony, and one Class 4 felony hate crime."

Lindsay Harmon, a Buffalo, New York lesbian who was slashed in the arm, cheek, and eye by an attacker who yelled anti-gay slurs outside a gay bar on New Year's Eve, does not know if she will regain the vision in her eye.