HRC and GLAAD have both reached out to David Letterman with regard to the joke made last night about transgender Obama appointee Amanda Simpson.
Writes GLAAD: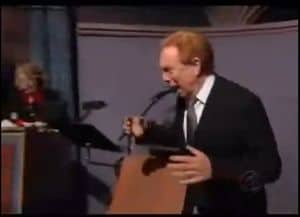 "Depicting people reacting in horror to transgender individuals is a
dangerous stereotype for popular media to perpetuate because it
contributes to the societal conception of transgender people as
abnormal and deceptive, which all-too-often results in anti-transgender
violence and/or discrimination when played out in reality."
HRC requested an apology. Part of their letter: 
You may not be aware that the punch line in your skit has been used
as a defense in nearly every hate crime perpetrated against transgender
people that has come to trial.  For example, the "trans panic" defense
was infamously used by Allen Ray Andrade, who was convicted in 2009 of
beating 19-year-old Angie Zapata to death with a fire extinguisher
after learning of her gender history.  According to media reports, it
has also been the main defense employed by Juan A. Martinez for the
killing of Jorge Steven López Mercado, 19, in Puerto Rico last November.
Your skit affirmed and encouraged a prejudice against transgender
Americans that keeps many from finding jobs, housing, and enjoying
freedoms you and your writers take for granted every day.  We ask that
you apologize publicly to Ms. Simpson and the transgender community for
this unfortunate episode.
The joke, if you missed it, is here.