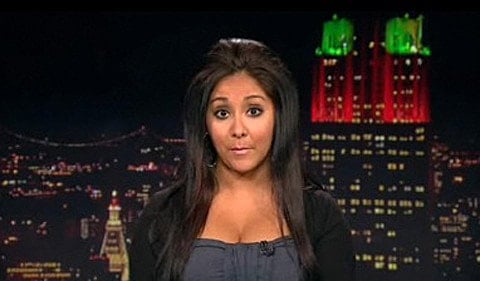 Poor Snooki.
The best character to come out of trashy reality TV this year is being attacked for promoting indoor tanning to the masses on the Jay Leno show the other night.
"Marybeth Hicks, who also wrote a parenting book called 'Bringing Up Geeks,' tells Usmagazine.com, 'It's disconcerting that [she] could have any sort of influence or be a role model… or advocate something like tanning beds that could cause cancer…The notion that these people are celebrities at all give them credibility they should not have.'"
No doubt that's all true. Indoor tanning is pretty much an indefensible position.
But, you know, Sarah Palin took Snooki's advice well before the Guidette handed it out, and where was Hicks then? Calling her a great role model for her kids.
Anyway, the whole point of this was to post Snooki's 10@10, which is thoroughly entertaining as long as you're not dumb enough (as Hicks apparently thinks you are) to think she's your role model.
Watch Snooki on Leno's 10@10, AFTER THE JUMP…