A gay man was assaulted outside the Filipino Community Center in Seatttle, according to the Seattle PI: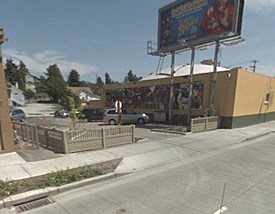 "A man told police he was beaten Sunday night in the parking lot of the Seattle Filipino Community Center because he is gay, and police arrested the man who allegedly made homophobic threats after the assault.
That man, 22, posted bond and was released from King County Jail on Monday night. Seattlepi.com is not naming the man because he has not been charged.
The incident happened about 1:30 a.m. in the 5700 block of Martin Luther King Way South. The victim was with a female friend and was returning from her vehicle when he passed the suspect and another man.
The second man walked behind the victim, and the suspect allegedly walked in front of him, blocking his path. 'Both suspects them punched the victim with closed fists on both sides of the victim's face causing pain and discomfort,' South Precinct Officer Joe Hadley wrote in his report. Police said the men then yelled a homophobic insult."
Slog has more details from the police report:
When officers arrived, the victim, a black man in his early 20s, said he and his female friend had left the community center to grab something from her vehicle. Upon returning to the building, two men (neither Filipino) in their earlier 20s confronted the man. The men—one of whom the victim knew as a friend of his cousin—trapped the victim between two cars, and they "then punched the victim with closed fists on both sides of the victim's face," the report says. "Then both suspects began to yell at the victim and stated 'You gay motherfucker.'"

Security staff working for an event inside the community center responded to the assault and apprehended the man that the victim knew. The second man, the police report says, fled the scene while yelling, "I wanna beat your ass, you gay ass motherfucker."

The victim "believes both suspects were aware that he was homosexual," the police report says, and "thinks that the only reason that he was assaulted is because he is homosexual." The victim reported that he was "in pain from the assault" but did not accept medical attention.

Despite a witness's statement to the contrary, the captured suspect
"denied that he punched the victim," the report concludes. Officers
booked the suspect into jail and requested that prosecutors charge him
with a misdemeanor for malicious harassment.