According to Page Six, the Marc Jacobs -Lorenzo Martone St. Barts nuptial photos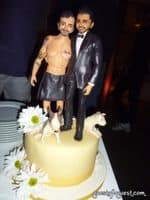 weren't that at all:
"Contrary to some reports, Marc Jacobs and Lorenzo Martone did not get married. Although photos of the designer and his Brazilian boyfriend posing in front of what looked like a wedding cake while on vacation in St. Barts were posted online Monday, Jacobs' rep, Kate Waters, tells Page Six: 'Someone just threw them a party. They're still happily engaged, but not married.' Back in November, Martone told us the couple were planning on getting married, but were just 'waiting for the holidays.'"
Previously…
Marc Jacobs and Lorenzo Martone Marry in St. Bart's [tr]