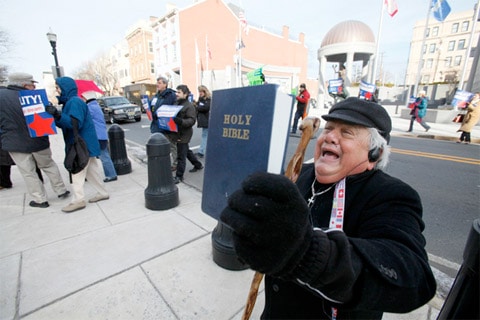 Despite rallies that drew approximately 150 advocates (and some detractors, above – image via the Star-Ledger) outside the statehouse, New Jersey's Assembly Judiciary Committee yesterday refused to take up the issue of marriage equality, casting a pall over its chances this legislative session or in the near future.
The NYT reports: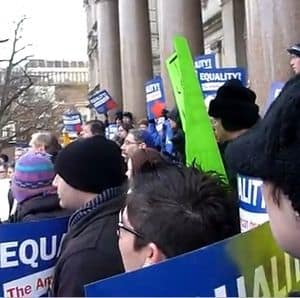 "Supporters of gay marriage have been lobbying frantically to win legislative approval of a marriage equality bill before Jan. 19, when Gov. Jon S. Corzine, who has promised to enact it, is replaced by Gov.-elect Christopher J. Christie, who opposes it.
But advocates of the bill were rebuffed on Monday, when the Judiciary Committee in the General Assembly met and did not take up the proposal. That setback, which comes two weeks after the measure stalled in the State Senate, means that the legislation has now become bogged down in both chambers.
Despite the growing odds against it, however, gay-rights advocates say they are still hopeful that they will win approval before the change of governors."
The situation has apparently become a political face-off between cowards:
"That has set up a standoff between leaders of the two houses, because many legislators who favor the bill do not want to go on record casting a controversial vote if they fear the measure will be defeated anyway.
The Assembly speaker, Joseph J. Roberts Jr., declined to put it up for a vote in Monday's Judiciary Committee hearing, and said he would allow the Assembly to vote on it if it passed the Senate. 'People are being politically expedient, so no one wants to go first,' said Assemblyman Reed Gusciora, a Democrat from Princeton, who sponsored the bill. 'But I'm still hopeful that people will see that this is a civil rights issue and vote their consciences.'"