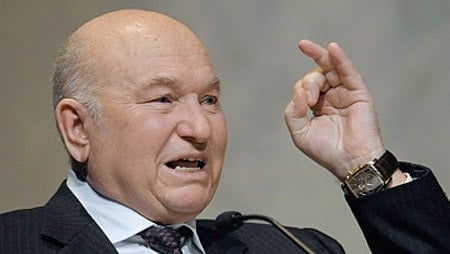 Said Luzhkov, during Christmas educational readings in Moscow, according to Interfax:
"For several years, Moscow has experience unprecedented pressure to
conduct a gay pride parade, which cannot be called anything but a
Satanic act. We have prevented such a parade and we will not allow it in
the future. Everyone needs to accept that as an axiom."
RIA Novosti continues: "Luzhkov also said there was a 'crisis of faith' in the world, which, he said, included the blessing of homosexual marriages, and 'sexual aids' with 'pictures, one glance at which insults the soul of even an adult' which are 'lethal moral poison' for children.' We cannot complacently watch numerous displays of blasphemy under the guise of creative work or freedom of speech,' the mayor said.
He said propaganda of same-sex relations was inadmissible and urged the fight against drug trafficking.
The mayor also said there could be no place for discussions of 'human rights and universal values' in these cases, and urged harsh measures in the fight against immorality."
The speech appears to be similar to one he delivered two years ago.