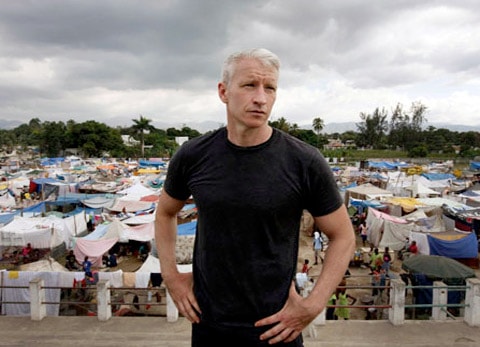 NYT fashion writer Guy Trebay has found a way, somehow, to focus on fashion during the Haiti earthquake disaster:
You could call it the Anderson Cooper effect. Mr. Cooper has rarely
missed an opportunity to showcase his buff physique (as anyone would
know if he or she remembers his stripping to a bathing suit to quiz Michael Phelps). But
Mr. Cooper isn't the only CNN correspondent with a self-conscious taste
for form-fitting charcoal T-shirts, accessorized with a tiny microphone
clipped at the neck.

Looking somewhat sheepish about it, a newly sleek Dr. Sanjay Gupta moved
through Port-au-Prince wearing a snug gray T-shirt, his hair styled in
the obligatory CNN crop. His colleague Jason Carroll, reporting on
Wednesday's aftershock and looking like a guy who had done 20 quick
pushups before going on air, wore a T-shirt so snugly revealing it
called into question whether a disaster zone is the place to flaunt
one's gym physique. A spokeswoman for CNN declined to comment, but in
journalism, as in most things, old standards of decorum are clearly on
the wane.
On that note, Gawker looks at Don Lemon's "dandy" aesthetic.
In related news, George Clooney's "Hope for Haiti" telethon on Friday night raised $57 million in 24 hours.
For information on how to join us in giving to front line medical groups in Haiti, click here.