IN Bahrain, where homosexuality is illegal, nine "crossdressers" were arrested on New Year's Eve, the Gulf News reports: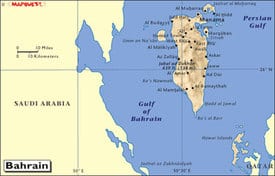 "They will be tried in a court of law after the public prosecution completes its investigation.
The police did not mention their nationalities, but said that they were from different Arab countries and that they were arrested in a hotel discotheque in Manama.
The crossdressers, heavily made-up and wearing provocative outfits, were soliciting revelers at the disco, according to the charges.
Some of the men had changed their looks with plastic surgery, the police said.
Homosexuality is banned in Bahrain, but lawmakers, wary of the growing number of gays in the country, have been pushing for a crackdown, including the adoption of tougher immigration measures and prompt deportations."
In the past, Bahrain has proposed surveillance of hairdressing salons and beauty and massage spas (because, you know, those are places gays like to hang out) as well as the monitoring of students in order to punish those who appear to have homosexual tendencies.