Two women who were reportedly part of a larger group of ten people have been arrested and charged with robbery, grand larceny, aggravated harassment and criminal mischief as a hate crime: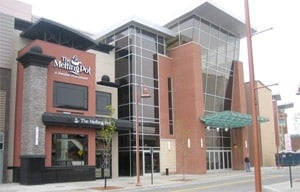 "The attack occurred at about 1:30 p. m. in the lower parking lot near the Macy's end of the mall. The victim, a 20-year-old Buffalo man, was threatened inside the mall by a group of about 10 people known to him as members of a local gang.
He was then followed outside to the parking lot, where he was pepper sprayed, kicked, punched and robbed.
The two women charged were Joy Darden, 18, of Zelmer Street, and Deonna Burnett, 19, of East End Avenue.' They confronted him a few times and followed him out,' said Speyer. 'They were pretty brutal in their pursuit. Obviously we need to take a stance against this.'
Darden and Burnett are accused of stealing a bag of jewelry, cash and other items worth more than $1,000.
Police also found a threatening note with gay slurs on the victim's car, which was vandalized. The vehicle was coated with a soaplike substance, and a mirror was ripped off."
There were additional charges to those listed above: "Burnett also was charged with unlawful possession of noxious matter and unlawful possession of marijuana. Darden received an additional charge of criminal impersonation."