The U.S. Supreme Court has taken on the Referendum 71 signature disclosure case and will decide whether or not voters who signed petitions in support of the measure intended to thwart Washington's "everything but marriage" law should be made public: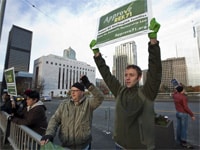 "The justices said Friday they'll consider an appeal of a lower court's ruling that the names should be released. Legal scholars nationwide have been following the R-71 case, saying it could have broad implications for public disclosure laws. Arguments will take place in April.
Protect Marriage Washington sought to block the release of the names of the 138,000 people who signed petitions in hopes of overturning the 'everything but marriage' same-sex domestic partner law. In November Washington voters upheld the new statute. Gay rights groups have said they'll post the petition signers' names online, and some fear harassment or threats if their names are revealed.
The ultimate decision could have far-reaching impacts, not just on the state's initiative and referendum process, but also for other 'open government' laws like the disclosure of who contributes to political campaigns, and how much they give."
As you may recall, voters approved R-71, which allowed the domestic partnership law to go into effect on December 3.