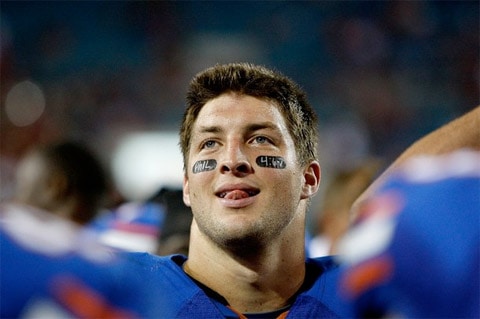 Tim Tebow, the University of Florida quarterback known to inscribe Bible verses into his eye black, has shot a commercial for anti-gay Christian group Focus on the Family set to air during the Super Bowl. The likely message of the ad, which he shot with his mother, is anti-abortion:
"Pam Tebow contacted amoebic dysentery while on a Philippines mission, and the bacterial infection sent her into a coma. Upon recovery, doctors urged Pam to have an abortion because of the damage to her body. Tebow was born healthy on Aug. 14, 1987…
Jim Daly, Focus on the Family president and chief executive officer, said in a statement that the Tebows' message about family comes at the right moment in the culture because 'families need to be inspired.'
The commercial was shot in Orlando. 'Tim and Pam share our respect for life and our passion for helping families thrive,' Daly said. 'Focus on the Family is about … strengthening families by empowering them with the tools they need to live lives rooted in morals and values.'
Super Bowl ads are expected to run around $2.8 million dollars for the 100 million viewers. But the Tebows produce financial draw."
Focus on the Family donated $727,000 to the Proposition 8 campaign to ban same-sex marriage in California. Its founder, James Dobson, has been outspoken against gay issues, most recently the federal hate crimes bill.
The ad is the first Super Bowl ad in FoF's history.