Yesterday, I posted that Obama had nominated Amanda Simpson to a position at the Commerce Dept. The nomination made her the first openly transgender presidential appointee. Simpson spoke to ABC News about the criticism she's likely to receive: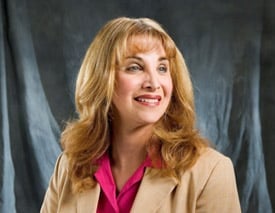 "Being the first sucks. I'd rather not be the first but someone has to be first, or among the first. I think I'm experienced and very well qualified to deal with anything that might show up because I've broken barriers at lots of other places and I always win people over with who I am and what I can do. [There will be] questions like: Is this a token? Are you here to do a job or just to fill a quota or appease other people? In that regard it makes it a bit more difficult. I'm sure I will have to do and intend to do a far superior job than any other person. But I'm sure I will always be second guessed."
Politico notes that Obama is headed to a quick record on LGBT appointments: "The Obama administration appointed about 100 openly LGBT Americans in
the first year of the president's term, according to statistics
compiled by the Gay and Lesbian Victory Fund, which provides financial
and campaign support to LGBT political candidates. President Bill
Clinton's administration appointed about 140 during his eight years in
office."