Well this is something to look forward to… not.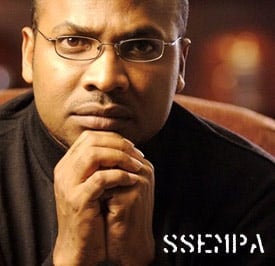 Heinous Ugandan pastor Martin Ssempa (who is, incidentally, Pastor Rick Warren's man in Uganda) is planning a "million man march" in support of the ""kill the gays" bill.
Reuters: "The east African nation has faced intense pressure from Western governments and human rights groups over anti-homosexuality legislation tabled in parliament as a private members' bill last year.
Museveni seemed to distance himself and the government from the proposed law on Tuesday, saying it was a foreign policy issue and calling for more talks. The ex-rebel leader said he had been under pressure from Western leaders. 'We want to show how many people support the bill,' Pastor Martin Ssempa told journalists in the Ugandan capital. 'We want to give a postcard that (Museveni) can send to his friend (U.S. President) Barack Obama,' Ssempa said in front of posters saying 'Africans Unite Against Sodomy' and 'Barack Obama Back Off'. He said the march was planned for February 17.
Ssempa, one of Uganda's most prominent anti-gay campaigners, criticised Western nations as 'failed states' for supporting gay rights."
From Max Blumenthal's article on Rick Warren and Uganda published a year ago:
"Warren's man in Uganda is a charismatic pastor named Martin Ssempa. The
head of the Makerere Community Church, a rapidly growing congregation,
Ssempe enjoys close ties to his country's First Lady, Janet Museveni,
and is a favorite of the Bush White House. In the capitol of Kampala,
Ssempa is known for his boisterous crusading. Ssempa's stunts have
included burning condoms in the name of Jesus and arranging the
publication of names of homosexuals in cooperative local newspapers
while lobbying for criminal penalties to imprison them."

"With safe sex advocates on the run, Warren and Ssempa trained their
sights on another social evil. In August 2007, Ssempa led hundreds of
his followers through the streets of Kampala to demand that the
government mete out harsh punishments against gays. 'Arrest all homos,'
read placards. And: 'A man cannot marry a man.' Ssempa continued his
crusade online, publishing the names of Ugandan gay rights activists on
a website he created, along with photos and home addresses. 'Homosexual
promoters,' he called them, suggesting they intended to seduce Uganda's
children into their lifestyle. Soon afterwards, two of President Yoweri
Museveni's top officials demanded the arrest of the gay activists named
by Ssempa. Terrified, the activists immediately into hiding."