The main sponsor of Uganda's "kill the gays" bill, David Bahati, is planning to attend the National Prayer Breakfast in Washington D.C. in February, Uganda's Sunday Monitor reports: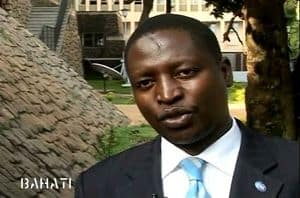 "Mr Bahati, according to reports, may speak at the event where President Barack Obama – a gays-tolerant liberal president, is also expected to attend. On Friday, Mr Bahati said he would attend. The event is organised by The Fellowship- a conservative Christian organisation, which has deep political connections and counts several high-ranking conservative politicians in its membership. 'I intend to attend the prayer breakfast,' said Mr Bahati – himself a part organiser of the Ugandan equivalent of the national prayer breakfast. This week, citing international pressure, President Yoweri Museveni advised his party's National Executive Committee, his cabinet and the NRM parliamentary caucus to 'go slow' on the Bill.
Mr Bahati told Inside Politics he is set to meet a special cabinet session to discuss the Bill tomorrow. 'The nature of legislation is such that one cannot have a final version. There are bound to be amendments but the process will go on,' he said. The entire affair has given the Museveni administration its worst spate of bad publicity in recent times.
Mr Museveni called it a foreign policy matter – elevating the Bill to the status of other concerns for the government like its engagement in the African Union and the United Nations Security Council."
"The Fellowship" is aka "The Family".
Last week, it was announced that prominent Ugandan evangelical pastor (and pal of Rick Warren) Martin Ssempa was planning a "Million Man March" to demonstrate popular support for the "kill the gays" bill.
Uganda's President Museveni has expressed desire to soften the bill in recent days, citing concern from the international community.