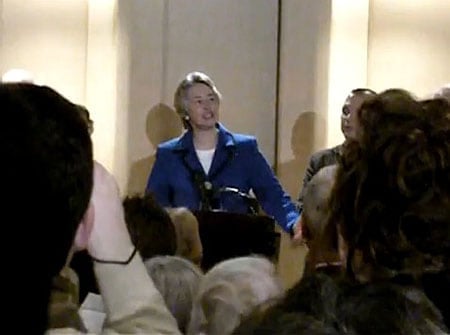 Following her private swearing-in over the weekend, Houston Mayor Annise Parker spoke with a jubilant crowd of LGBT supporters at a victory gathering last night.
Blogger Mike at Administrativia reports: "More than 500 people from the community packed the ballroom at the Four Seasons hotel to 'Celebrate Victory! — A Party to Welcome the New Mayor of Houston, Annise Parker!'Among the event co-hosts: Equality Texas, Gay & Lesbian Victory Fund, HATCH, Houston Area Stonewall Democrats, Houston GLBT Community Center, Houston GLBT Political Caucus, Houston Transgender Unity Committee (HTUC), Houston Stonewall Young Democrats (HSYD), Pride Houston, Seniors Preparing for Rainbow Years (SPRY) Attendees included veteran GLBT activist Ray Hill, Harris County's first openly gay judge, Judge Steven Kirkland, former Mayor Kathy Whitmire, and a host of others."
Said Parker: "I have been so grateful for the opportunity in the national and international media, to talk about Houston. Now, there was a split in the media. About half the guys I talked to me said 'Houston elected a lesbian mayor!', and the other half said, 'Houston did that?'"
Watch, AFTER THE JUMP…