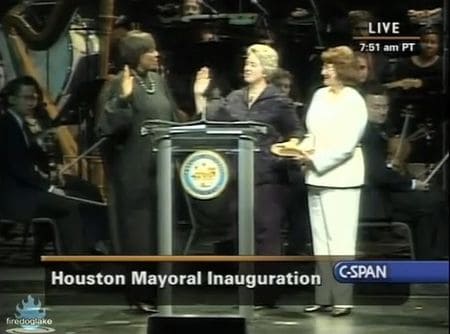 Houston mayor Annise Parker was publicly sworn in to office moments ago. A private swearing-in ceremony was held over the weekend, as well as a victory party thrown by her LGBT supporters. Houston is now the largest city in the US. with an openly gay mayor.
Watch the public swearing-in, AFTER THE JUMP…
And related news from the ceremony: "In stark contrast to a handful of protesters outside brandishingsigns invoking the name of God together with anti-gay slurs (the Phelps clan — AT), LakewoodChurch Senior Pastor Joel Osteen gave thanks in an opening prayer for 'raising up' Parker. 'We honor her today and other elected officials,' he said."