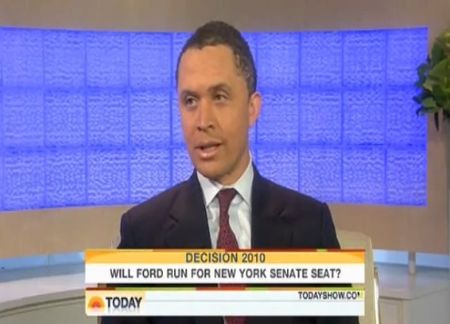 As I mentioned this morning, former Tennessee congressman Harold Ford Jr. has suddenly done an about-face on same-sex marriage as he jockeys for position in the NY Senate race.
Ford told Matt Lauer this morning, "I've been a supporter of civil unions since I was elected to Congress in 96. It's a fiction between the two. My support for fairness and equality long existed before I moved to NY."
Watch, AFTER THE JUMP…
In fact, Ford voted for the federal marriage amendment which would have constitutionally banned same-sex marriage ein the U.S.
Adds Ford: "I'm a believer that benefits should flow to same-sex partners and if indeed the fiction of the language, the title should be changed, much like Chuck Schumer who changed his mind on it, and Bill Clinton has evolved. I'm of the opinion now that nothing is wrong with that. [I'm in favor of] Civil unions and same-sex marriage, yeah.
Watch Ford's statement, plus the 2006 U.S. Senate campaign ad in which he attacks his opponent, saying "Said I'm for gay marriage when I voted against it.", AFTER THE JUMP…