This revelation comes courtesy of UK tabloid News of the World, so take it for what you will: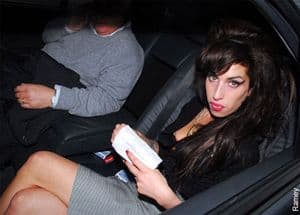 "Wacky Wino told close friends: 'So what? I like girls as well. I have had relationships with other women but that doesn't mean I don't still love Blake. There is something about being with a woman that is very satisfying. I don't care what people think about me being bi — I do what feels good.'
… And last night, a friend of Amy's confirmed that the singer was bisexual.
Speaking with Amy's consent, they told me that Wino loves to check out beautiful women – and even has a crush on X Factor judge Cheryl Cole. 'There is nothing restrained about Amy's sexuality,' said the pal. 'She doesn't hold back and says what she feels. She often talks about other women. Her favourite is Cheryl, who she really fancies. Most women can appreciate another woman's beauty but Amy definitely takes that to the next level.'"