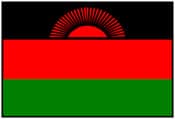 Details are scarce but the AP is reporting that another man has been arrested in Malawi "in a sweep directed at homosexuals."
More: "Police spokesman Dave Chingwalu said the 60-year-old man arrested Monday was charged with sodomy.
The hunt, arrests and prosecution of homosexuals comes amid a growing local and international campaign for Malawi to 'go easy' on gays and lesbians."
A 21-year-old gay activist named Peter Sawali was recently arrested for putting up gay rights posters. And Steven Monjeza and Tiwonge Chimbalanga have been in jail for almost two months for holding an engagement ceremony.
This morning I posted disturbing footage of angry anti-gay mobs in Kenya and the Malawian capital of Blantyre.