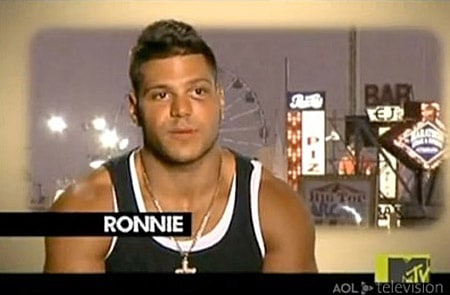 MTV chose to censor a homophobic tirade unleashed by Ronnie during one of his boardwalk brawls on Jersey Shore:
"It all went down minutes before Ronnie's first brawl on the show — in which he and another bar patron could be seen talking trash to each other and then exchanging blows on the shore in front of their girlfriends. But in the new never-before-seen footage — Ronnie can also be seen and heard calling the guy a 'f**king f**got' and a 'f**king queer.'"
A source from the production tells TMZ that Ronnie was always well-behaved toward the gays that worked on the show.
TMZ has the footage and a poll on whether or not Ronnie's a homophobe. As of this posting the results are at 50/50.
Longer footage, with annoying editing, AFTER THE JUMP…