Well, here's a preview from the Washington Post of what we can expect today at the 'Don't Ask, Don't Tell' hearings: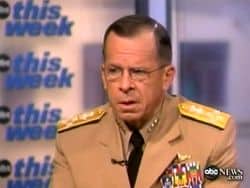 "President Obama's top defense officials will tell the Senate on Tuesday that the military will no longer aggressively pursue disciplinary action against gay service members whose orientation is revealed against their will by third parties, sources say. …But Gates and Mullen are also expected to tell senators that it could take years to integrate gay men and lesbians fully into the military, defense officials said. Two appointees will be named to oversee a group that will draw up plans for integrating the armed forces, according to sources familiar with the Pentagon's deliberations on the subject. The planning effort is expected to take up to a year."
So, basically it could be January 2011 before even the "planning effort" is finished.
Sen. Carl Levin (D-MI) penned an op-ed in Politico. Here's part of it:
An army is not a democracy. It is a meritocracy, where advancement
depends not on who you are, but on how well you do your job. The
meritocratic nature of our military has made it a leader in civil
rights. It can be again on this issue.

So there is little reason to continue this policy. But as we proceed, it
is vital that we are sensitive to any complications of this policy
shift. Change is always hard, especially when it involves social issues
or personal beliefs. Lack of care as we proceed might spark opposition
from those who could be open to change, and inflame the opposition of
those already against it. And I would encourage those who favor change
not to mistake deliberation for undue delay.
So, ENDA gone. DOMA repeal nowhere in sight… What are gays getting in 2010? Looks like nothing. Or wait, maybe a few crumbs.
It'll be interesting see if HRC puts out a press release following this announcement that praises the administration, or condemns it. Bets?
For now, they have sent out an action alert, asking people to email Congress.