Anti-gay, anti-choice evangelical group Focus on the Family has produced a second ad with Tim Tebow and his mother that will air four times prior to the Super Bowl game during the pregame show, USA Today reports: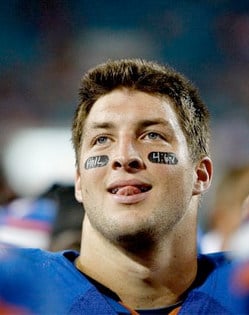 "The new ad also features star quarterback Tim Tebow and his mother, Pam. It was filmed in Orlando last month at the same time as the group's controversial — though yet unseen — in-game ad…Interest groups including the National Organization for Women have asked CBS to drop the Tebow ad.Although Focus on the Family won't reveal its ads' details, CEO Jim Daly says the original ad was rejected by CBS. In it, Pam Tebow, who was advised by a doctor to have an abortion for medical reasons when pregnant with her son, said, 'Both of our lives were at risk.'"They felt that was too much," he says. 'So we dropped the line. We didn't fight them.' The word 'abortion' is never used.The ad is 'an open discussion on the sanctity of human life — not just the issue of abortion,' Daly says. It was made for less than $100,000 with 'a bit of humor in it — in fitting with the Super Bowl theme.'"
This morning I posted a Planned Parenthood ad produced in response to the Tebow spot.
Earlier this week it was revealed that CBS had a much bigger hand in the ad than previously thought, working with Focus on the Family for months to help craft the ad's message.
Watch Jimmy Kimmel's Tebow rebuttal ad, AFTER THE JUMP…