You may remember that last month Chinese authorities shut down the country's first "Mr. Gay China" pageant an hour before it was set to begin, saying organizers did not have proper permits. Now, Mr Gay World 2010 director Tore Aasheim reports that a contestant from China has arrived in Norway to compete: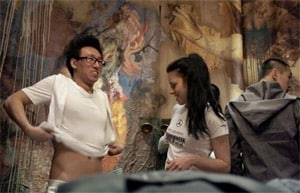 "Aasheim said the Chinese contestant — whose identity he would not reveal — had been selected by his peers, the other contestants in the blocked Chinese pageant, to represent their country at this year's Mr Gay World.
"It is very courageous on his part to have taken the risk to leave his country to take part in an event to which Chinese authorities are hostile," Aasheim said.
"In Beijing, all the contestants were gathered in one room and police clearly indicated they did not want a Chinese participation in the pageant. It's very uncomfortable to receive such a message in a country where human rights are not the main priority," he added.
This year, 24 contestants from five continents are to compete in Oslo for the Mr Gay World title in the second edition of the competition."
According to Aasheim, the Norwegian government rushed the Chinese man's visa so he could compete.